Holly K. Hulewat, Credentialed English Teacher
Teaching Students
the Art of Language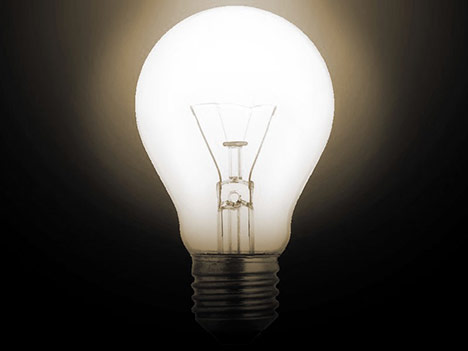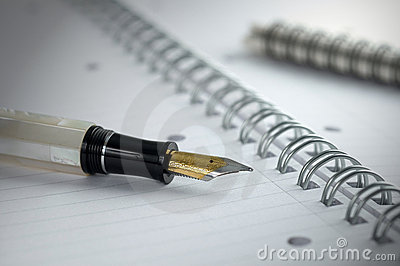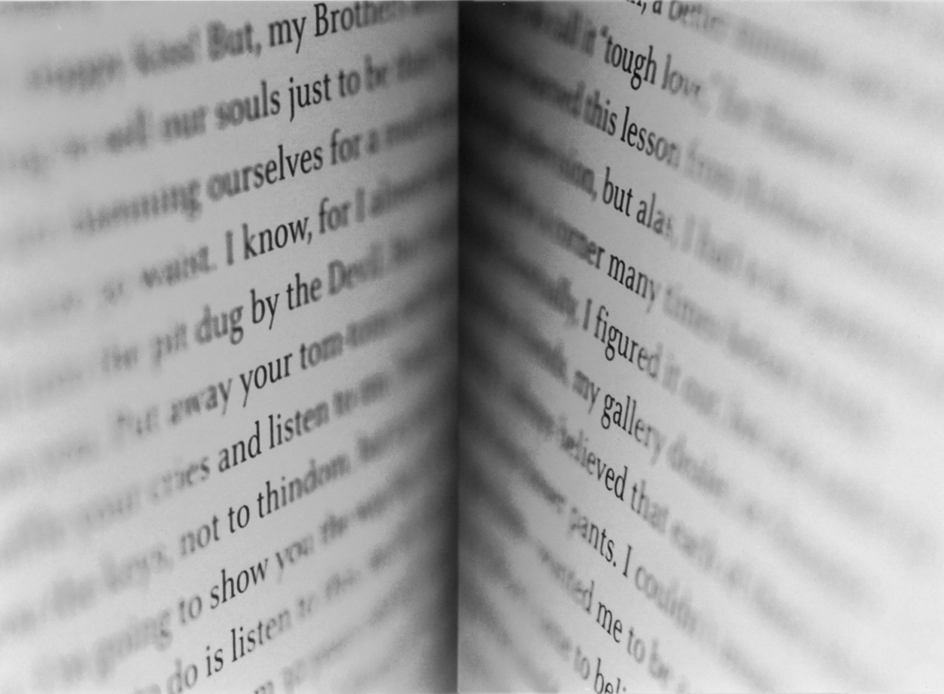 ---
---
Halloween at C.T. English Middle School
It is no simple feat managing 234 spirited middle schoolers in costume as they consume sugar, but the smiles are worth it!
​
I have been the student council advisor for the past five years, and the biggest event student council hosts is our school's Halloween celebration. In our weekly meetings, student council officers and representatives express how they would like to celebrate, and I guide them by informing them of our resources, school policies, and past celebrations.
In my first year of running student government, I followed tradition and planned a rally-type celebration with a parade in the gym and spectator games such as chubby bunny and doughnut-on-a-string; the whole school wildly cheered on the contenders. The following year, a fire destroyed our community center, its offices, and caused our gym to close. This prompted me to rethink how we would celebrate Halloween.​​
I redesigned an event that allowed all students to participate and required minimal clean-up! We still do an all-school parade, but I incorporated a costume contest and candy at the end. After the parade, all students proceed to a chosen teacher-led activity such as hearing spooky stories, painting Dia de Los Muertos candy skulls, obstacle courses, and karaoke!
In order to make the most of Halloween, all students need to know the general logistics of this event.
Click here to see a video I and my students made to inform the school!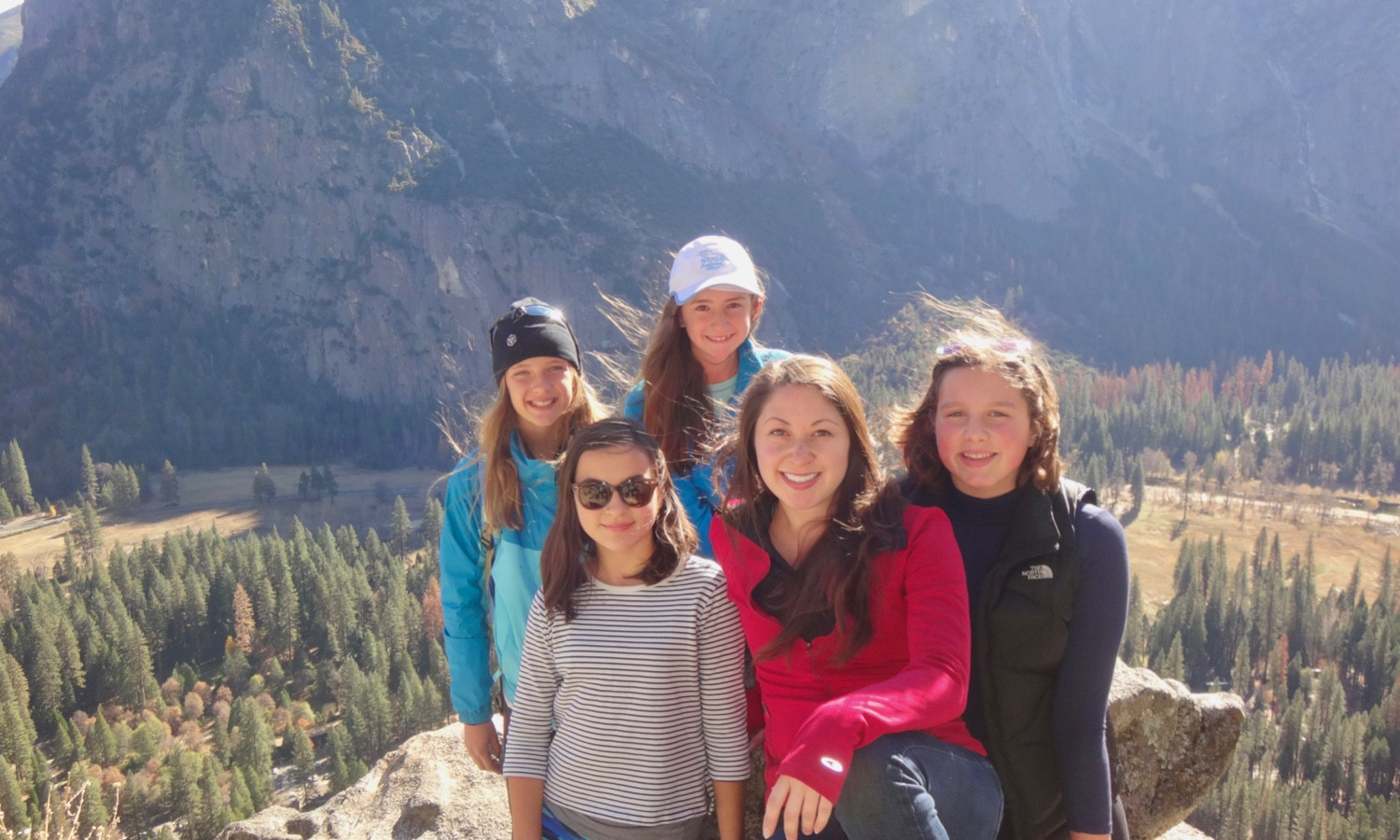 Beyond My Classroom


Helping kids make middle school memories that will last forever​
​Working at a small school where everyone "wears many hats" has provided me with myriad opportunities to work with students beyond my classroom through student activities and field trip coordinating.

​​My organizing skills have been put to the test by student elections, fundraisers, whole-school Halloween celebrations, "Fractured Fairytales" performances for the elementary school, and publishing a bi-weekly student magazine. I am currently the coordinator for our first ever St. Baldrick's head-shaving event and fundraiser, and I cannot wait to see it all come together!
In my six years at CTEMS, I have served as student council advisor, Yosemite Planning Committee​​ member and lead chaperone, a Washington, D.C. chaperone, and performing arts teacher.
​
​
The work I do in my classroom between 1st and 4th periods is necessary, but the fun I have beyond that solidifies my relationships with students, challenges me, and feeds back into the spirit of my classroom. Students are ​

kids

growing into the people they will someday be, and my involvement beyond curriculum is an important reminder of that. It is a privilege to see my

kids

as full, developing characters as they make middle school memories that will last forever.
I hope you enjoy this gallery of my work with students beyond the classroom!
Overlooking the Yosemite Valley with adventurous 7th graders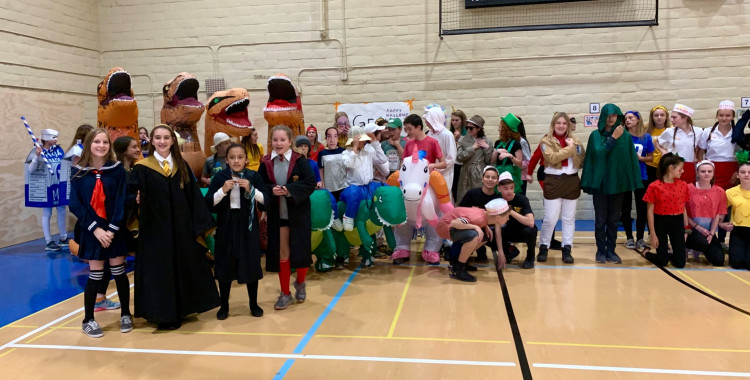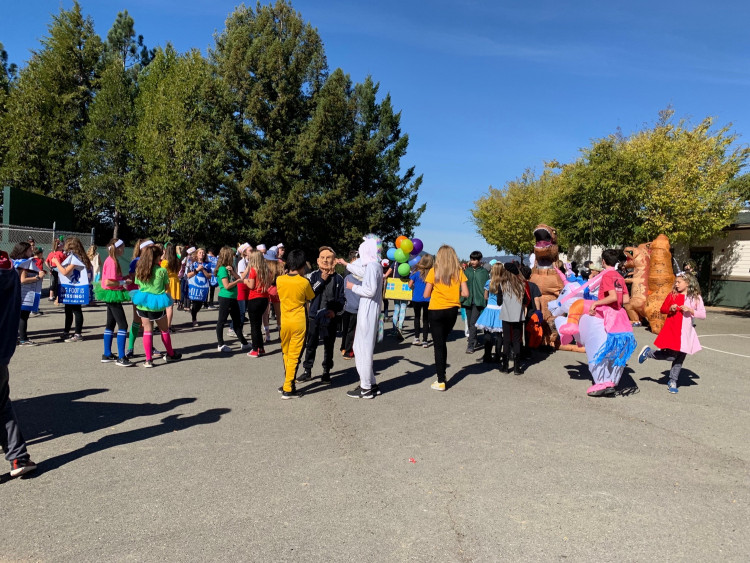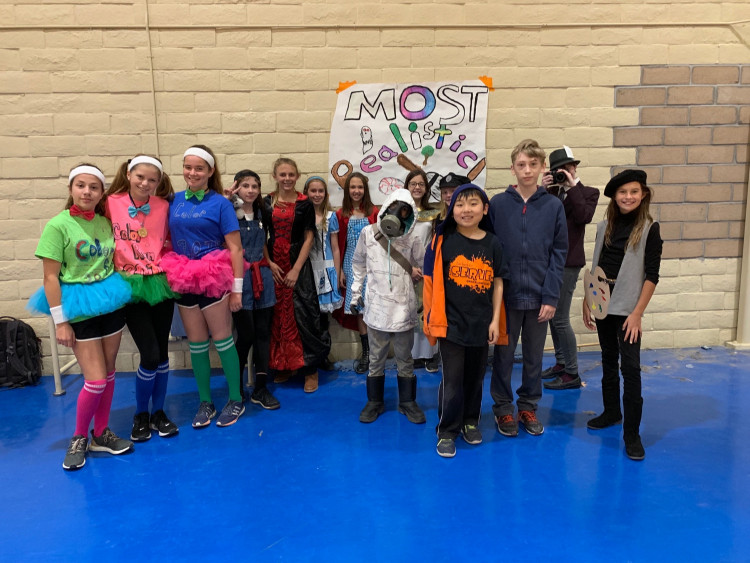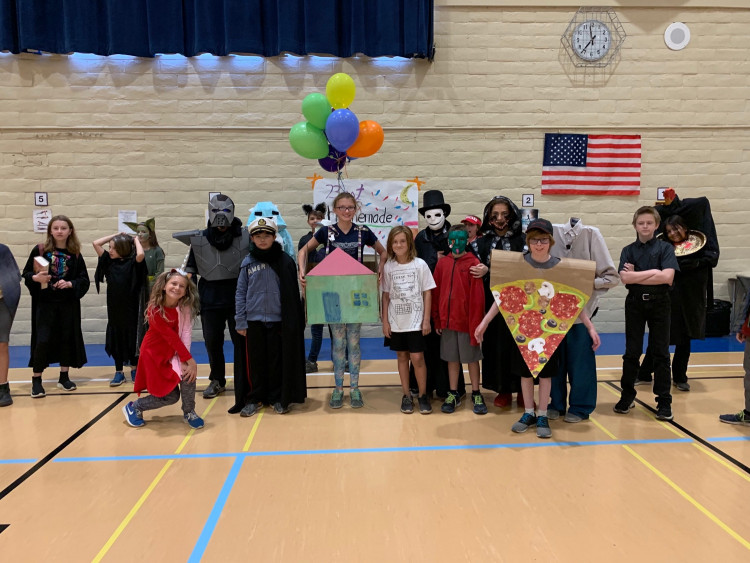 7th Grade Yosemite Field Trip
"A ship in harbor
is safe -- but that is not what ships are built for.​"
The quote above is credited to John A. Shedd and I first heard it from a Nature Bridge naturalist as a pre-hike quote.​ It sums up all of the reasons why we disrupt routine and spend five school days in nature's classroom. Click here to view slides from my presentation to the school board.
So much goes into ​​organizing a week-long field trip for an entire grade level of students, and here are only three staff members on our Yosemite Planning Committee. We take students and families through the entire process: creating packets, hosting information nights, sorting permission slips and medical forms, lowering anxieties during"bon voyage" hugs as kids board the bus, participating in hikes, comforting homesick students, and bringing them home safely.

As lead chaperone, it is my mission to provide a smooth trip for all chaperones and students. I first served as a trail group chaperone but stepped up to supervise the trip after three years of trail experience. My duties are to make sure all information regarding meeting times, rules, tips, and logistics are communicated to trail group chaperones, cover for chaperones who need a break or are feeling ill, take care of students who are ill and cannot attend trail, communicate health or behavior concerns to parents back home, and remove obstacles for the entire group so we can enjoy a smooth trip.​​
​​
​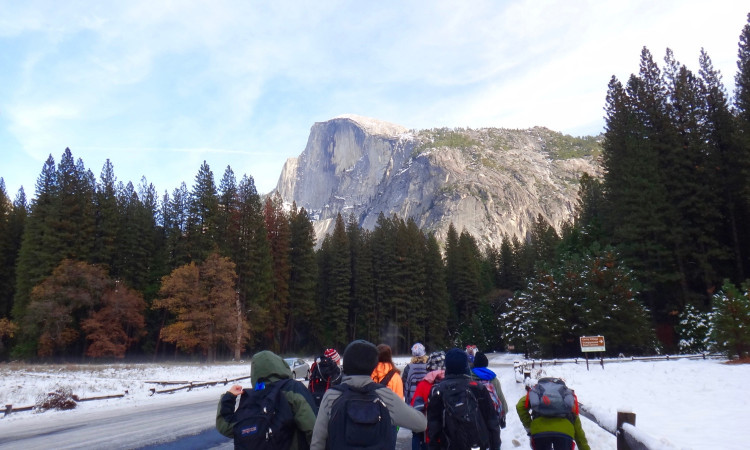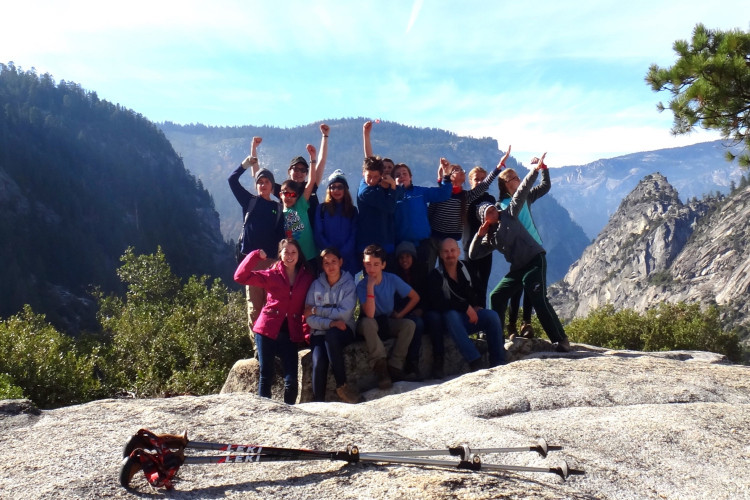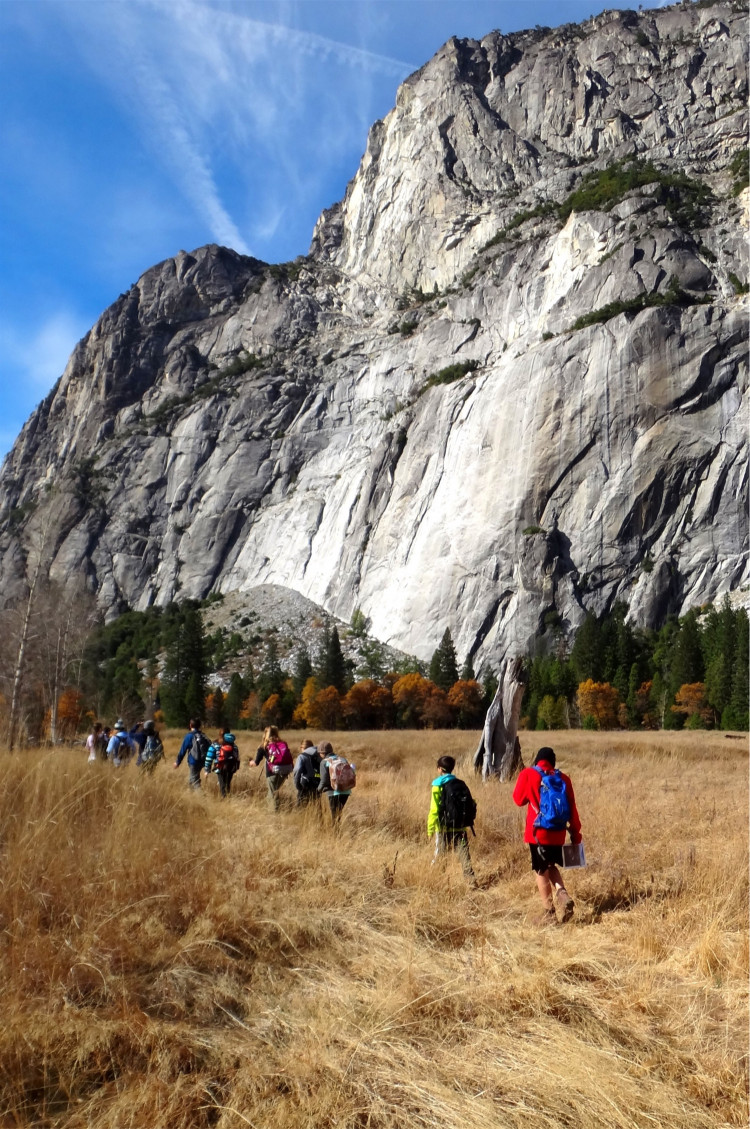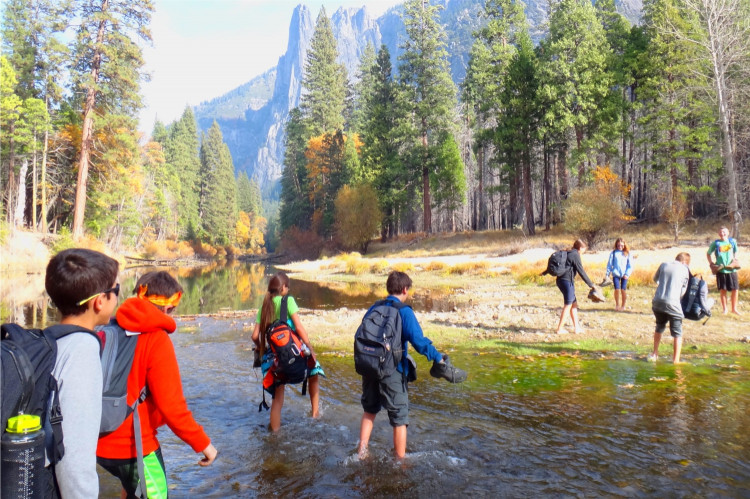 Best Group Costumes prepare for the Halloween Parade
Best Group Costumes prepare for the Halloween Parade
Best Homemade Costume contenders
Nearing the top of our challenge hike conquering Lower Yosemite Falls.
Hiking back to the village after a long, snowy day on trail.
Above: conquering Nevada Falls, elevation: 5,971 ft.

Below: Taking a chance and fording the stream​​.